Table of Contents
VII. Moroccan Chickpea Stew Recipe
Why is Diet Important?
According to the Centers for Disease Control and Prevention, more than 12 percent of adults between 2015-2016 that were 20 years and older had cholesterol levels above 240 mg/dL. That number equates to nearly 29 million American adults with extremely high cholesterol. It's safe to say that cholesterol is an aspect of our health that we should all be keeping an eye on to prevent cardiovascular diseases in the future.
Cholesterol can be measured with a simple blood test from your doctor. Often if cholesterol is exceptionally high due to lifestyle or environment or you have a genetic predisposition for high cholesterol, doctors may prescribe a combination of cholesterol-lowering medications, such as Zetia, with dietary and lifestyle recommendations.
Diet is a factor that can influence cholesterol levels that is within your control. Continue reading for ten food recommendations to add to your cooking repertoire that can help lower cholesterol and will leave you feeling healthier than ever.
JOIN MAILING LIST
Get savings updates for Zetia
Specials offers, medication updates and health news delivered right to your inbox.
Kale
Kale is a cruciferous vegetable like cabbage and broccoli and is considered to be one of the most nutrient-dense foods on the planet.
Quercetin and kaempferol are antioxidants found in high amounts in kale. These antioxidants fight against free radicals in the body, which cause oxidative damage. Excess free radicals in the body damage blood vessel walls and are considered a risk for heart disease. When there is an excess in free radical activity, LDL (bad) cholesterol particles are more likely to deposit in vascular walls causing a narrowing of blood vessels known as atherosclerosis. [1]
One study recruited thirty-two men with high cholesterol (above 200mg/dL). Participants drank 150 mL of kale juice per day for 12 weeks. The results demonstrated a 27 percent increase in HDL (good) cholesterol, a 10 percent decrease in LDL (bad) cholesterol, and improvements in antioxidant levels. [2]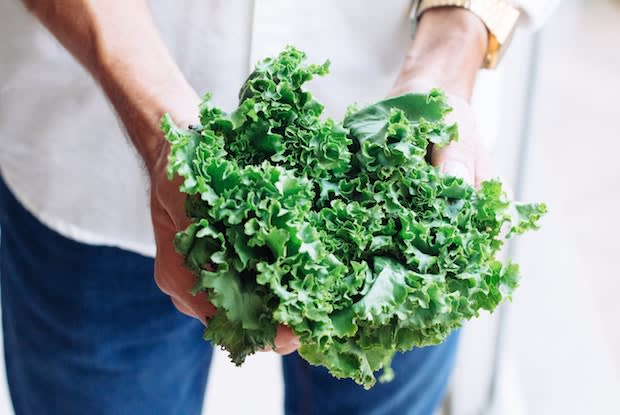 Those numbers alone should be enough to convince you that kale is your new best friend. A cup of kale a day may just be enough to keep the heart doctor away.
Garlic
Garlic adds flavor to your meals and is full of health-promoting compounds as well. Garlic is a plant in the Allium family and is closely related to onions, shallots, and leeks. A clove of garlic contains manganese, vitamin B6, vitamin C, selenium, and fiber.
One study demonstrates that garlic supplementation is beneficial in reducing blood pressure and can counteract oxidative damage. Study authors conclude by saying that garlic offers cardioprotection for people with high blood pressure. [3] Another study shows that administering 20 g of garlic and one tablespoon of lemon juice daily can improve blood lipid profile and decrease blood pressure in people with high cholesterol. [4]
Grab a few cloves of garlic and get chopping! Your meals will taste better and your cholesterol may see benefits, too.
Walnuts
Walnuts are a source of heart-healthy monounsaturated fatty acids, protein, vitamin E, and have a balanced omega 3-6 fatty acid profile.
Researchers at Yale University Prevention Research Center wanted to determine the effect of daily consumption of walnuts on cholesterol levels. The data of this study suggest that 56 g (about a ¼ cup) of walnuts, when consumed every day for six months, provides many cardio-protective benefits. Researchers found that the study participants' total and LDL cholesterol levels fell a significant amount after consuming walnuts daily for six months. [5]
Grab a small handful of walnuts, chop them up, throw them in the oven to roast lightly, and voila — you have the perfect salad topping that tastes delicious and will lower your bad cholesterol levels, too.
Strawberries
Strawberries are juicy, sweet, delicious, and healthy fruit. They contain a significant amount of vitamin C, manganese, vitamin B9 (folate), and potassium. Strawberries also contain pectin, a soluble fiber, which helps to eliminate cholesterol from the body. [6]
Anthocyanin provides strawberries with its characteristic red-colored pigment and is found in high amounts in this fruit. Anthocyanins belong to a group of flavonoids, which are a subclass of polyphenols and are antioxidants. A study published in the American Journal of Clinical Nutrition shows that, after eight weeks of moderate berry consumption, HDL (good) cholesterol, vitamin C, and polyphenol concentrations in the blood all increased. [7] Therefore, regular berry consumption may decrease risk factors related to heart disease.
Another study gave healthy volunteers 500 g (around 2 cups) of strawberries daily for one month. After 30 days, strawberry consumption significantly reduced LDL (bad) cholesterol by nearly 14 percent and triglycerides by 20 percent compared with the baseline period. Furthermore, antioxidant status and vitamin C profiles improved significantly. Overall, strawberry consumption exhibited improvements in blood lipid profiles, antioxidant status, and platelet function, suggesting this fruit's ability to protect against cardiovascular disease. [8]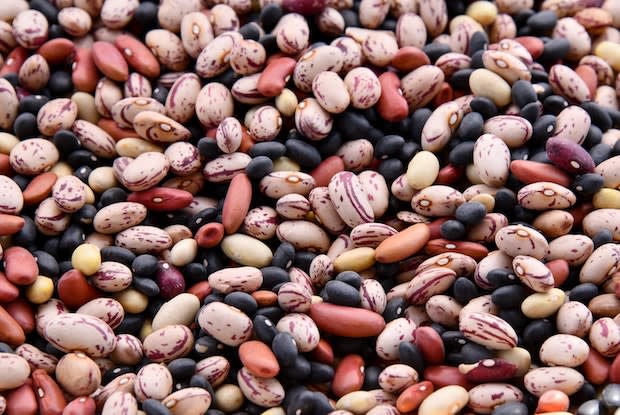 Legumes
Lentils, peas, chickpeas, and kidney beans are all part of the legume family, also known as beans or pulses. Legumes are highly nutritious and contain significant amounts of protein, fiber, potassium, magnesium, and folate. Legumes are also low in dietary fat and glycemic load.
Because legumes are high in soluble fiber, the absorption of these nutrients slows down, increasing the excretion of cholesterol at the same time. Legumes take longer to digest, which tends to mean you end up eating less when they are part of a meal. Furthermore, the high fiber content of legumes causes less insulin to be released after eating them, which results in lower blood sugars. [9]
One study wanted to determine the effects of substituting red meat with legumes after eight weeks. Compared with the legume-free diet, participants who ate a legume-based diet showed significant decreases in LDL cholesterol and triglycerides. [10] In fact, eating 130 g of pulses (one small can) per day may reduce LDL cholesterol as much as 5 percent.
There are many delicious (and easy) recipes you can make that include a variety of legumes and pulses from chili, to hummus, to minestrone soup.
Moroccan Chickpea Stew
Try out this Moroccan Chickpea Stew recipe that is easy-to-make, mouth-watering, and features three of the cholesterol-lowering ingredients mentioned above: kale, garlic, and chickpeas.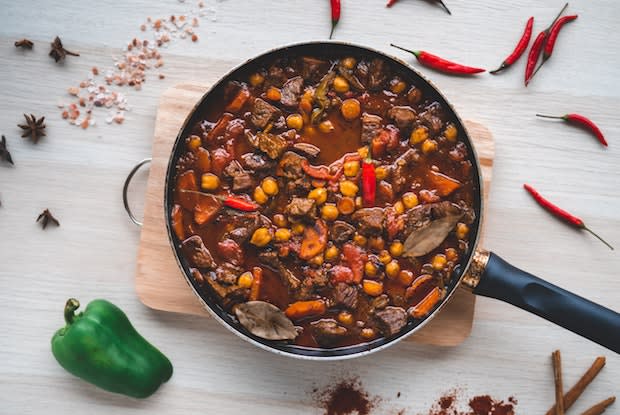 Ingredients:
2 tbsp extra virgin olive oil
1 cup chopped white onion
½ cup diced celery
½ cup diced red pepper
3 cups cubed sweet potato
2 cups kale (chopped, packed)
1 can (540 mL) diced tomatoes (no salt added)
1 can (540 mL) chickpeas (no salt added)
1 tbsp finely minced garlic
2 tbsp minced gingerroot
1 tbsp each spice including cumin, curry powder, coriander, and chili powder
3 cups reduced-sodium vegetable broth
1 tbsp freshly-squeezed lemon juice
½ tsp salt
¼ tsp black pepper
1 small can (400 g) light coconut milk
2 tbsp natural peanut butter or almond butter
Directions:
Heat olive oil in a large pot on medium-high heat. Add onions, celery, red pepper, and garlic. Cook and stir for 2 minutes. Add gingerroot and spices (cumin, curry powder, coriander, chili powder). Cook for 1 minute.
Add vegetable broth, sweet potatoes, tomatoes, chickpeas, lemon juice, salt, and pepper, coconut milk. Bring to a boil. Reduce heat and let simmer for 20 minutes. Stir in kale and peanut butter (or almond butter), simmer for an additional 5 minutes.
Now it's ready to serve. Enjoy!
The content in this article is intended for informational purposes only. This website does not provide medical advice. In all circumstances, you should always seek the advice of your physician and/or other qualified health professionals(s) for drug, medical condition, or treatment advice. The content provided on this website is not a substitute for professional medical advice, diagnosis or treatment.