Table of Contents
---
---
What is Asthma?
Asthma is a chronic respiratory disease that affects around 334 million people worldwide and around 25 million Americans. [1] [2] Asthma often occurs during childhood and is the most common chronic condition in American children. [3]
Asthma is an inflammatory disease that causes the airways to narrow. This makes it difficult to breathe and can cause symptoms, including wheezing and coughing. Asthma patients always have inflamed airways but triggers may cause the airways to swell even more. [4] The severity of asthma varies among patients. It can range from having regular flare-ups and asthma attacks to suffering few symptoms and only requiring an inhaler before exercise.
There are various types of asthma. The most common form of asthma is bronchial asthma. Other common forms include allergic asthma, intrinsic asthma, exercise-induced bronchoconstriction (EIB), and cough-variant asthma (CVA). [3]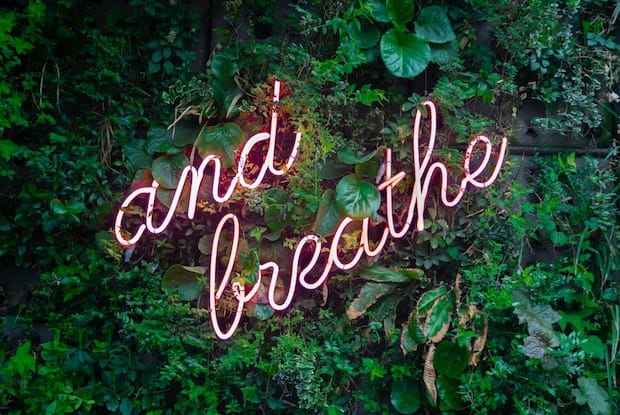 a. What Causes Asthma?
Asthma is caused by a mixture of genetic and environmental factors. However, the exact cause of asthma is not known.
Asthma patients often have close relatives that also suffer from the condition. However, it is also possible to develop the condition, even without a family history. Environmental factors that may cause asthma include air quality and pollution. This is especially likely for patients that develop asthma during adulthood.
For patients with asthma, breathing difficulties occur when the airways come into contact with a trigger. When this happens, the airways become even more inflamed and swell. This then reduces the amount of air that can pass into the lungs, causing breathing difficulty.
Not all asthma patients share the same triggers, although some are common. Approximately 80 percent of asthma patients have airborne allergies. These include grass, pollen, and dust mites. [5] Other common triggers can include exercise, smoke, and exhaust fumes.
Asthma Symptoms
Not all asthma patients will experience all of these particular symptoms. Symptoms depend on which form of asthma that you have. Speak to a doctor if you show these symptoms or believe that you may have undiagnosed asthma. Asthma symptoms may be similar to chronic obstructive pulmonary disease (COPD) so it is important to visit a doctor for a diagnosis.
a. Shortness of Breath
Shortness of breath may be the most recognizable sign of asthma. It can result in patients gasping for air. The severity of breathing difficulties is a good indicator of how severe an asthma attack is.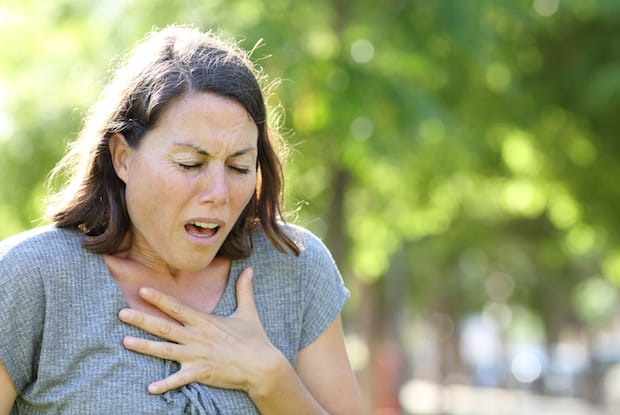 Mild episode: Breathing slightly faster than normal.
Moderate episode: Breathing faster than normal and using abdominal muscles to breath.
Severe episode: Very fast breathing and use of the neck, chest, and abdominal muscles to breathe. Exhaling may take longer than normal and nostrils may widen during breaths. [6]
b. Wheezing
Wheezing is a whistling noise that some asthma patients may make during breathing. At the beginning of an asthma attack, wheezing may only occur while exhaling. However, if the asthma attack worsens, then wheezing may also happen while inhaling. Wheezing may completely disappear during a severe asthma attack if only a small amount of air is passing through the airways. [7]
c. Coughing
Coughing is another common symptom of asthma, particularly in children. Coughing is especially common during the night, during exercise, or while laughing. However, asthma-induced coughing can occur at any time. [8] Persistent coughing may sometimes be the only visible symptom of asthma. Asthma patients may cough up phlegm more than usual.
d. Chest Tightness
Feeling heaviness or pressure in the chest can make breathing more difficult. Chest tightness often occurs directly before or during an asthma attack. The feeling slightly differs between patients. Some patients may feel sharp pains, while others may have a dull ache. [9]
Asthma Treatments
Asthma is a chronic condition that has no known cure. However, medications are available to control asthma symptoms and to relieve asthma attacks. Asthma is usually treated with an inhaler medication. Keep reading to learn about the most common asthma inhalers.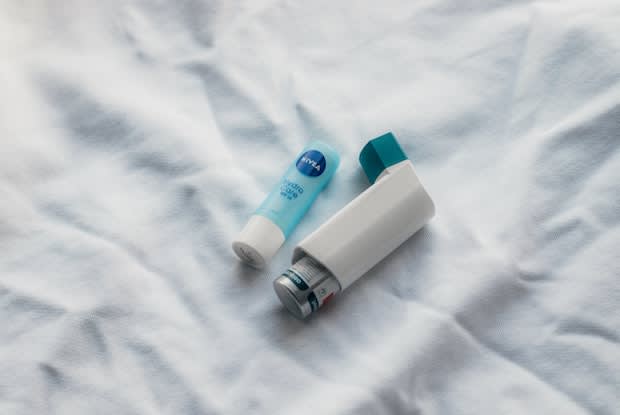 a. Corticosteroid Inhalers
Corticosteroid inhalers such as Flovent (fluticasone) and Pulmicort (budesonide) may be used as a long-term medication to control asthma symptoms. Corticosteroids are anti-inflammatory medications that reduce inflammation and swelling in the airways to improve breathing.
b. Bronchodilators
Bronchodilators such as Spiriva (tiotropium) and Atrovent (ipratropium) are another type of long-term asthma inhaler. Bronchodilators relax the muscles around the airways and clear mucus out of the lungs.
c. Combination Inhalers
Combination inhalers usually combine a corticosteroid and a bronchodilator, although they may also combine two bronchodilators. Combination inhalers are used on a long-term basis to improve the symptoms of asthma. Common medications include Advair (fluticasone and salmeterol) and Symbicort (budesonide and formoterol).
d. Quick-Relief Inhalers
As well as using one of the long-term control medications above, your doctor may also prescribe a quick-relief or 'rescue' inhaler. Inhalers such as Ventolin are used in an emergency to relieve an asthma attack. You can purchase inhalers like Ventolin (albuterol) at a reduced price through an online Canadian pharmacy like Rx Connected.
The content in this article is intended for informational purposes only. This website does not provide medical advice. In all circumstances, you should always seek the advice of your physician and/or other qualified health professionals(s) for drug, medical condition, or treatment advice. The content provided on this website is not a substitute for professional medical advice, diagnosis or treatment.